New Click Tags
Glen Research is collaborating with baseclick Gmbh to offer a variety of interesting alkyne phosphoramidites. We offer some azide products and are now embarking on an expansion of our azide catalog. Our strategy is to offer first our most popular labels for general interest and, subsequently, we will add azide products that are not compatible with phosphoramidite chemistry.
Out first offering of azide tags for Click Chemistry, BiotinTEG, DesthiobiotinTEG, 6-FAM-TEG, and Dipivaloyl 6-FAM-TEG, is shown in Figure 1.

Biotin is still our most commonly used label and biotinTEG, with its hydrophilic triethylene glycol spacer, is the most popular biotin product. Desthiobiotin is a biotin analogue that is well captured by streptavidin but the captured product can be easily released by applying a biotin solution to the streptavidin beads. 6-FAM is our most popular fluorescein derivative and we offer azides of both 6-FAM and pivaloyl-protected 6-FAM for situations where subsequent reactions require the 6-FAM to be protected. In both 6-FAM products, the hydrophilic TEG spacer is again used. The azides are offered in 25 and 100 µmole packs for convenient oligonucleotide labelling.
Figure 2 illustrates the high efficiency of the click reaction between 6-FAM-TEG Azide and an oligonucleotide modified with C8-Alkyne-dT (10-1540) on a 0.8 µmole scale.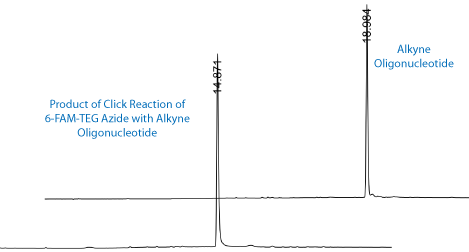 Click Procedure
Notes on Click Chemistry:
The CuBr/TBTA solution must be made fresh, however, the 0.1 M TBTA solution in DMSO/t-butanol can be safely stored in the freezer.  If the click reaction is performed on the column, note that the resulting triazole linkage is compatible with deprotection in AMA for 10 minutes at 65 °C or overnight deprotection in ammonium hydroxide at room temperature.
Materials:
800 nmoles of Alkyne-labelled oligo in 80 µL water (10 mM)
2 molar equivalents of azide label per alkyne moiety to Click
3 mg CuBr
240 µL 0.1 M TBTA  in DMSO/t-butanol 3:1 (v/v)
Procedure:
Add the azide label to the alkyne-labelled oligo and vortex to dissolve.
Add the CuBr to the 0.1 M TBTA solution and vortex to dissolve.  (Note: this solution must be made fresh.)
Combine the CuBr/TBTA and oligo/azide solutions, mix well and transfer to a heat block set at 45 °C.
Let react for 1.5 hours.
Dilute to 1 mL with water and desalt on a Glen Gel-Pak™ cartridge or equivalent. (Note: CuBr may precipitate upon the addition of water but this will not interfere with the desalting of the labelled oligo.)
Product Information