Since their introduction in December of 2007, the standard Glen-Pak™ DNA and RNA cartridges have become the preferred method of DMT-ON oligonucleotide purification for many of our customers. In that same time period, the range of our Glen-Pak product line has expanded to meet the demand for multiple processing formats as well as varying applications. This article is a review of the many different Glen-Pak options now available for purification of DNA and RNA, ranging from our smallest scale 30mg, 96 well plate to our mid-scale Glen-Pak DNA Cartridge 3G.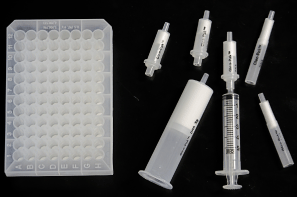 Benefits
Glen-Pak cartridges are highly versatile due to their ability to be used directly with common base deprotection solutions such as Ammonium Hydroxide, AMA, Tert-Butylamine/Water, and Potassium Carbonate in Methanol.
They impart a larger capacity per gram of bed volume than most standard reverse phase cartridge systems due to the highly specific capture of DMT-ON products and simultaneous exclusion of DMT-Off failure sequences during the loading step.
The cartridges are also compatible with oligonucleotides over a very broad length range. We have successfully purified DNA sequences from 2 to 150 bases in length and RNA sequences over 60 bases long.
Finally, there are multiple scales and formats available to meet downstream processing requirements ranging from single use to multi-well automation, since RNA and DNA Glen-Paks can be used with a standard, disposable syringe in addition to 96 well and chamber/port vacuum manifolds.
To The Limit
As with any cartridge purification technique, there are some inherent limitations to keep in mind.
Not all modifiers, dyes or minor bases are stable to the reagents used in the purification process (2% TFA, for example).
Some hydrophobic dyes that aid in purification when on the 5' end of an oligo (Cy3, Cy5, Dabcyl, TAMRA) tend to challenge 5'-DMT specificity during purification when placed internally or at the 3' end. Additionally, any DMT-ON failure sequences derived from a stepwise synthesis cycle or instrument issues may co-purify with the full-length product.
Finally, as with any chromatographic technique, challenging sequence content of an oligonucleotide such as G-quartets or designed hairpins can dramatically impact binding of the 5'-DMT to the Glen-Pak resin. As such, the Glen-Pak performance is directly correlated to the quality of the synthesis itself as well as the direct composition of the oligonucleotide.
Versatility, Tips and Tricks
In response to customer requests, we have added protocols to the Glen-Pak User Guide for many different oligo types. Some tips have also emerged as helpful in the routine use of Glen-Paks, as noted below.
For example, the protocol for purification of phosphorothioates as well as mixed 2'-OMe and 2'-F-RNA oligonucleotides includes a heating step (55°C for at least 15 minutes) just prior to loading of the oligonucleotide solution onto the cartridge and greatly improves yield. Customers purifying longer oligos and those with inherent secondary structure have also used this slight change to the procedure successfully.
Another example is the use of the DNA Glen-Pak for RNA desalting as an alternative to precipitation of 2' deprotected, DMT-Off RNA oligonucleotides.
As mentioned above, purification via a 5'-DMT has inherent limitations. One way to obtain highly pure oligonucleotides is to use the Glen-Pak as a preliminary purification step by omitting the TFA DMT removal step, eluting the final product DMT-ON, followed by a much more fine tuned reverse phase HPLC purification.
Finally, it has been confirmed that with the use of TEA.3HF, DMSO and the required Quenching Solution, the Glen-Pak RNA cartridge is appropriate when conducting DMT-ON purification of DNA/RNA chimeras.
Glen-Pak Summary by synthesis scale
Glen-Pak DNA 30mg, 96 Well Plate (60-5400-01) - Up to 50 nmole Capacity
Designed for those customers looking for true high throughput, small scale, DMT-ON purification of oligos via either a stand-alone manifold or with their currently installed SPE robotics-based vacuum systems. Each well in the standardized 96-well filter plate is filled with 30mg of Glen-Pak DNA purification resin, which is enough to purify up to a 50 nmole scale synthesis.
For stand-alone use, the 96-well plate can be coupled to a vacuum source, a collar-based manifold, and a waste tray for loading or rinse steps. The standard sample load and rinse volumes are 500 µL with final elution volumes of 250 µL, which are collected into a 96-well deep well plate. These volumes are only suggestions based on our experience, and could be lowered with specific methods development. The plate is also compatible with previously installed 96-well filter plate and SPE manifold systems.
The advantages of using the 96-well format include:
Lower cost processing (less labor and unattended operation if using a robot).
Less processing time per oligo when using a whole plate.
Less solvent usage for every purification step.
Less final elution volume to dry in preparation for analysis or use.
Glen-Pak DNA 50mg Purification Cartridge (60-5000-96) - Up to 200 nmole Capacity
Introduced primarily for those using automated liquid handlers. It has a capacity of up to a 200 nmole scale and the same 96 well, standard configuration as the regular sized Glen-Pak DNA cartridge. The main benefit for those using liquid handlers is the shorter bed height, which allows for lower volume, single reagent additions at most of the purification steps. This cartridge is only offered in the vacuum manifold configuration due to its intended use with higher throughput applications.
Some of the benefits of the 50mg cartridge include:
Lower bed volume leaves more room for reagents in the column.
Lower volume additions for all but the DMT removal step.
Lower final elution volume of 0.5mL, which reduces sample drying time.
More amenable to robotic applications due to single reagent addition capability.
Glen-Pak DNA Purification Cartridge (60-5100-xx, 60-5200-xx) - Up to 1 µmole Capacity
Ideal for DMT-ON based purification of oligonucleotides up to a 1.0 µmole scale and comes in both hand held syringe and manifold compatible configurations. The vacuum style cartridges utilize a standardized adapter rack to allow use of 96 well manifolds and due to their luer tip, are also compatible with multi port chamber style manifolds. The syringe style gives a single use or lower throughput option with no change in protocol. Methods have been developed for 2'-OMe, 2'-F, and phosphorothioate oligonucleotides as well as for simple desalting of both DNA and RNA. Additional methods for 5'-Thiol, 6-FAM, CyDye and phosphorylated oligos can be found in the Glen-Pak User Guide.
Glen-Pak RNA Purification Cartridge (60-6100-xx, 60-6200-xx) - Up to 1 µmole Capacity
As with the standard Glen-Pak DNA cartridges, these products are able to purify DMT-ON RNA and RNA/DNA chimeric oligonucleotides of scales up to 1.0 µmole. The same hand held and vacuum manifold formats are available to enable both low and high throughput options. Due to its functionalized resin, the cartridge is amenable to both long and short sequences and is compatible with RNA base deprotection of both TOM and TBDMS monomers followed by TEA.3HF based 2'-deprotection. If highly pure RNA oligos are needed, this cartridge is the perfect pre-purification step should a second PAGE or HPLC processing step be desired.
With a simple, direct load of a quenched 2'-deprotection mixture, these cartridges offer one of the fastest, most convenient DMT-ON purification methods for RNA oligonucleotides available.
Glen-Pak DNA Cartridge 3G (60-5300-01)- Up to 20 µmole Capacity
Using the same resin as in the standard DNA Glen-Pak, these cartridges can purify and desalt a mid-scale oligonucleotide synthesis of between 5 and 20 µmoles using the same protocol as the standard cartridge but with a 10-fold linear increase in volume for each step. Many of our customers use this product as a DMT-ON pre-purification cartridge, as it is a simple way to remove excess failures, protecting groups, and salts prior to proceeding with a second ion exchange or reverse phase HPLC step. As with all of the Glen-Pak cartridges, an oligonucleotide can also be processed with the DMT still intact by skipping the TFA step and eluting in the same 50% Acetonitrile solution, as described in the Glen-Pak User Guide.
Accessories
Various accessories are available to enable proper use of the Glen-Pak DNA and RNA Cartridges. Both an adapter rack (60-0010-01) and seal for unused wells (60-0020-01) are made available for use with any of the vacuum style Glen-Paks on a 96 well manifold. Less than 96 purifications per run can be done using this seal. Additionally, RNA Quenching Buffer (60-4120-xx) is required to stop the 2'-deprotection reaction of an RNA oligonucleotide and prepare it for loading onto the Glen-Pak RNA cartridge.
Table: Glen-Pak™ Summary

| Description | Catalog No. | Scale | Format | Uses |
| --- | --- | --- | --- | --- |
| Glen-Pak DNA 30mg | 60-5400-01 | Up to 50 nmole | 96 Well Plate | High throughput Routine DNA |
| Glen-Pak DNA 50mg | 60-5000-xx | Up to 200 nmole | Cartridge | High throughput Routine DNA Low volumes used |
| Glen-Pak DNA | 60-5100-xx | Up to 1 µmole | Cartridge | High throughput Routine DNA Up to 150mers |
| Glen-Pak DNA | 60-5200-xx | Up to 1 µmole | Hand Held Cartridge | Routine DNA |
| Glen-Pak RNA | 60-6100-xx | Up to 1 µmole | Cartridge | High throughput Routine RNA |
| Glen-Pak RNA | 60-6200-xx | Up to 1 µmole | Hand Held Cartridge | Routine RNA |
| Glen-Pak DNA 3G | 60-5300-01 | Up to 20 µmole | Cartridge | Routine DNA |
Please see the Glen-Pak User Guide for specific protocols: User Guide to Glen-Pak™ Purification
Glen-Pak™ is a trademark of Glen Research Corporation.
Product Information