The Glen-Pak™ product line continues to be one of the industry's most flexible options for fast, high-fidelity purification of DMT-ON oligonucleotides. While the Glen-Pak DNA cartridge for use with disposable syringes (60-5200-xx) is still the go-to option for initial methods development, many of our customers in need of higher throughput are using our three 96-well products to purify their DMT-ON oligos.
The standard DNA cartridge (60-5100-xx) is used to purify at synthesis scales of up to 1.0 µmole and our 50mg version, contained in a tube of the same dimensions (60-5000-96), allows single-step reagent additions at the 200 nmole scale. Finally, the Glen-Pak 30mg 96-well plate gives customers the option to purify up to 50 nmole scale syntheses in a standardized, deep well format. All three of these products allow customers to purify up to 96 oligos in one run using off-the-shelf vacuum manifolds while the standard and 50mg versions are also compatible with chamber/port based solid-phase extraction (SPE) systems.
Examples of our early Glen-Pak options are shown in the top right photo.
Glen-Pak™ Early Options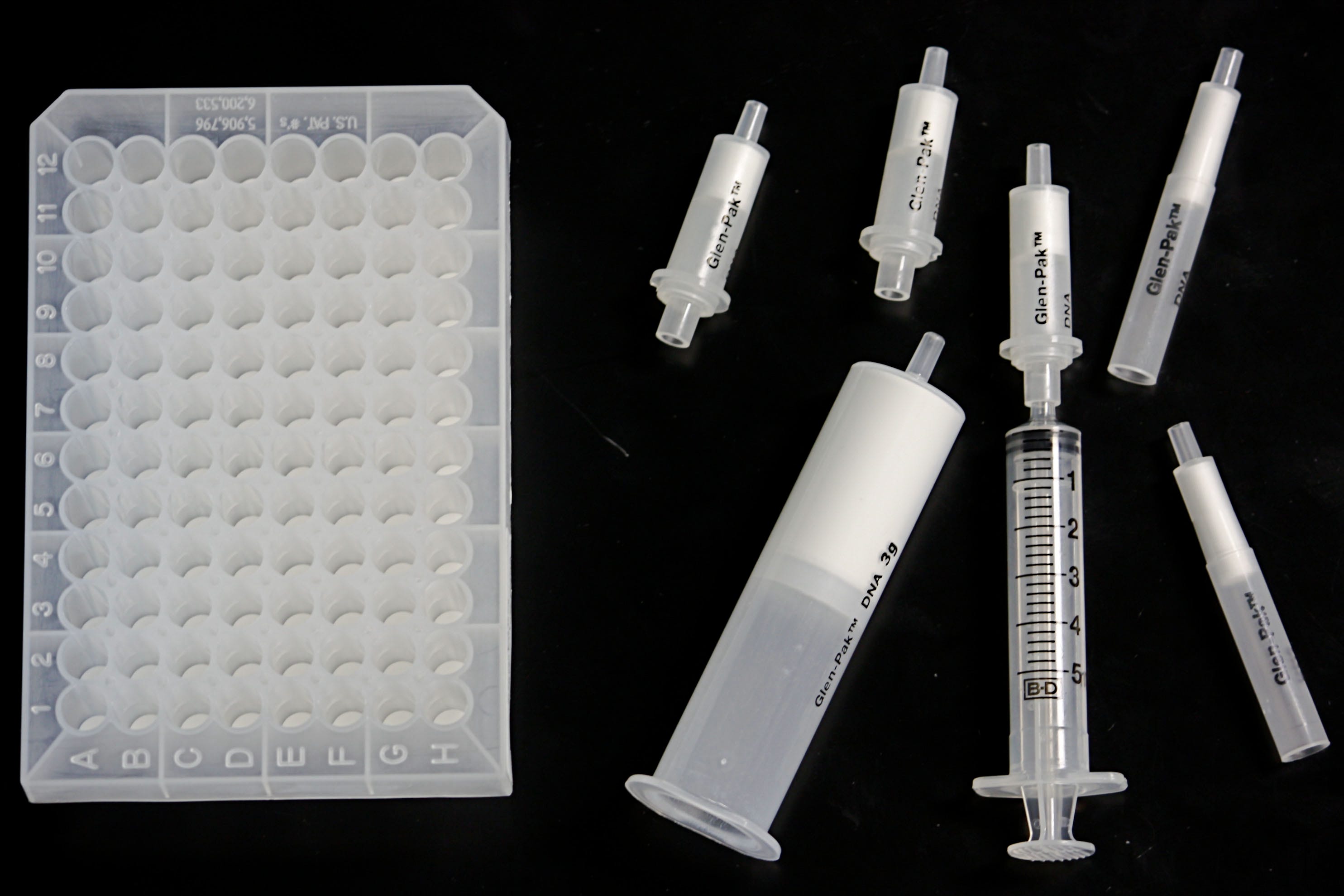 New Technology Setting the Pace
The recent introduction of DNA/RNA synthesizers using support-impregnated, 384-well filter plates has opened up even higher throughput production options for those desiring higher synthesis throughput. As was the case when 96-well systems first hit the market, customers have requested a way to seamlessly move from whole-plate cleavage and deprotection to DMT-ON, Glen-Pak purification. In response to this new demand, we are happy to introduce our highest throughput purification product yet, the Glen-Pak DNA 3mg 384-Well Plate shown in the lower right photo.
Glen-Pak™ DNA 3mg 384-Well Plate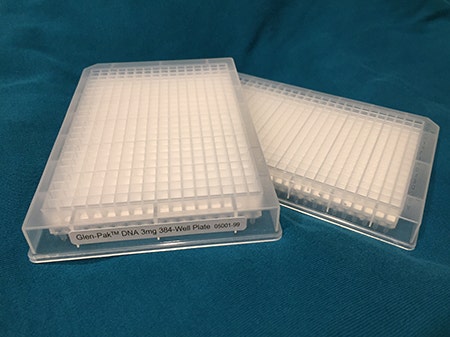 The Glen-Pak DNA 3mg 384-Well Plate is designed for use with 384-well plate compatible vacuum manifold systems and can purify up to a 20 nmole scale synthesis. Each well contains 3mg of Glen-Pak DNA resin, which binds about 15 nmoles of full length 40-mer DMT-ON oligo.
The low resin component in each well opens up the opportunity to normalize final product yields across the plate at the purification stage. A simple over load of crude, DMT-ON product, capturing the maximum amount of full-length material, allows higher fidelity downstream processing and quantification. Such a step decreases the impact of crude synthesis quality on final yield variation across the plate and allows quick identification of well-to-well anomalies. Of course, loading less than 20 nmoles in order to capture all DMT-ON material from a crude synthesis for purification is still a fine strategy.
As with any high-throughput system, customers will have to develop their own liquid-handling methods based on the specific equipment being used in downstream processing. That said, we have found the Glen-Pak DNA protocol to be easily scaled based on resin content and a simple reduction in volumes from our standard Glen-Pak DNA cartridge protocol: GlenPak_UserGuide.pdf
Benefits of the 384-well format
Potential for normalization of yield, which aids in downstream processing.
Lower cost processing (less labor and unattended operation if using a robot).
Less processing time per oligo when using a whole plate.
Less solvent usage per oligonucleotide for every purification step.
Less final elution volumes to dry in preparation for analysis or use.
Benefits of Glen-Pak over standard SPE purification methods
Glen-Pak cartridges are highly versatile due to their ability to be used directly with common base deprotection solutions such as Ammonium Hydroxide, AMA, Tert-Butylamine/Water, 0.4M NaOH Methanol/Water 4:1, and Potassium Carbonate in Methanol.
They impart a larger capacity per gram of bed volume than most standard reverse phase cartridge systems due to the highly specific capture of DMT-ON products and simultaneous exclusion of DMT-Off failure sequences during the loading step.
Glen-Pak products are compatible with oligonucleotides over a very broad length range. We have successfully purified DNA sequences from 2 to 150 bases in length and RNA sequences over 60 bases long.
Finally, there are multiple scales and formats available to meet downstream processing requirements ranging from single use to multi-well automation, since RNA and DNA Glen-Paks can be used with a standard, disposable syringe in addition to multi-well and chamber/port vacuum manifolds.
Please see the Glen-Pak User Guide for specific protocols: GlenPak_UserGuide.pdf
Product Information
Glen-Pak™ Purification Products
Glen-Pak™ is a trademark of Glen Research Corporation.